This Is The World's First Fully Solar Train
Details

Written by Smaragda Chrysoulaki
Hits: 593
In an Australian beach town, surfers get their boards to the coast using renewable-powered transit.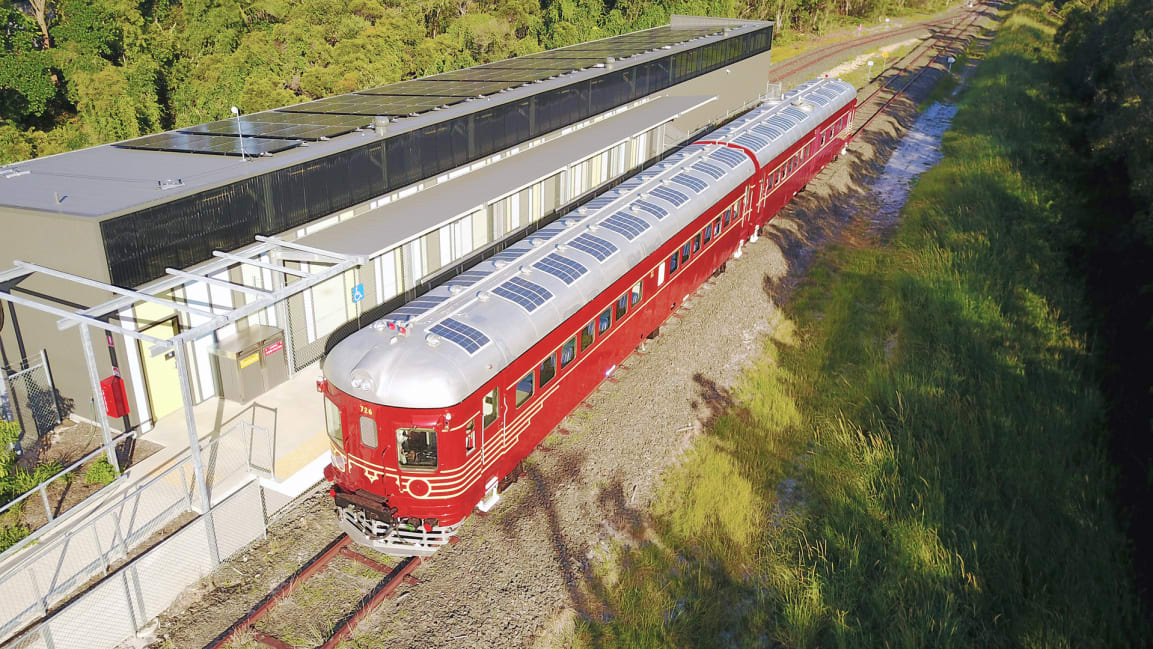 The Australian beach town of Byron Bay has a traffic problem–especially during holidays, when tourists cause gridlock on local streets. Until recently, there were few options for public transit. But the town now has a second option for traveling one common route: The world's first fully solar-powered train, running on a restored train line that was out of use for more than a decade.
Converting the train to solar–using a vintage vehicle built shortly after World War II–was a challenge. "We were aware that it had not been done before and wanted to push the boundaries," says Jeremy Holmes, development director of the nonprofit Byron Bay Railroad Company, which runs the train. The route, which travels between the central business district and the northern part of the town, had advantages: At a little less than two miles long, it's short, and the track is flat and almost perfectly straight between the stations, requiring less power than other routes might. The vintage train, which was built with aluminum fuselage in a factory that made planes during World War II, is also lightweight.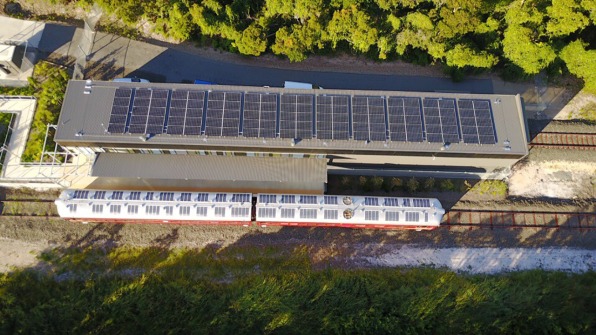 Custom curved solar panels on the roof of the train send power to a set of batteries that replace one diesel engine; the other engine is still in place and can provide backup power in an emergency. As the train brakes, it generates more electricity, like a hybrid car. At a train station, the train can be plugged in to pull more power from solar panels on the roof. If there's a long period without sun–somewhat unlikely in this part of the world–the train can also plug in to get renewable energy from the local grid."The large solar array on the platform roof coupled with the custom curved solar panels on the train roof produce more solar energy per day than is required to operate an hourly return service," says Holmes. With one full charge, the train can make 12 to 15 trips.
Volunteers fully restored the train to its vintage condition to attract more riders–which should take more cars off city streets. The train fits 100 seated passengers, with room for more to stand, and also has a luggage room for bikes and surfboards. A ride costs a little more than $2 (three Aussie dollars).The nonprofit thinks it's a model that could be replicated elsewhere. "Our service has had no government support or funding at all, but for this to be replicated or improved upon, the key is for government to work with private enterprise on small custom initiatives," Holmes says. "Our service provides an example of how a niche operation, with the involvement of some very clever engineers, can harness the sun's energy for sustainable transport solutions."source:
https://www.fastcompany.com/40509756/this-is-the-worlds-first-fully-solar-train