The electric trams shuttling car parts and groceries around European cities
Details

Written by Smaragda Chrysoulaki
Hits: 272
French and German cities using trams to move products show how to cut congestion while making a profit from the network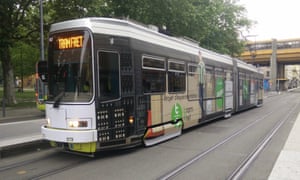 Having achieved ubiquity in almost every urban centre in Britain by the end of Victorian age, the electric tram was killed off by the rise of the automobile in the middle decades of the 20th century.
Over the past 25 years, however, the tram has undergone a stuttering, half-hearted revival. Since the launch of the Manchester Metrolink in 1992, a handful of British cities have opted for electric tram systems, which offer quiet, reliable and pollution-free transport in dense urban areas.
Edinburgh's troubled tram project, which took three years longer than planned and had doubled in cost by the time it finally opened in 2014, helped taint tram development with the perception of costly overruns. Earlier this month the National Audit Office revealed the tram-train scheme linking Sheffield and Rotherham has soared five times higher than its £15m budget to £75.1m.
But across Europe there are examples of existing tram networks being used to attract businesses to use the network for freight transport. Could this extension help make a success of trams in the UK in the years ahead?
In France there are dozens of tram and light-rail passenger systems following major investment in the 1980s. And having large, well-run tramways in place for passengers has allowed businesses to come in and make the network even more productive.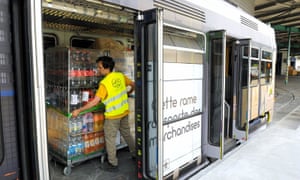 In Saint-Étienne, central France, the TramFret project uses old trams to transport cargo on the city's network, moving produce from a warehouse on the outskirts of the city to the busy downtown area. Since its launch in June, the once-daily TramFret has been delivering water, soft drinks, snacks and canned goods to supermarket stores owned by Casino.

The research and development institute Efficacity forged the TramFret partnership between Casino, the local authority and the tramway operator Société de Transports de l'Agglomération Stéphanoise (STAS). Efficacity's business development officer Joël Danard says the organisation is now talking to several other potential clients keen to move goods by tram.

"It was based on the idea that if you could bring the flow of goods on to the tramway, it would prevent adding to traffic on the road," explains Danard. "It avoids congestion on the roads, and so it helps reduce the amount of carbon emissions and pollution."

He adds: "Casino find it economical because it's very quick and convenient to get the goods into the downtown area – you can almost push the goods from the tram right into the shops. The transport operators also like the idea of reusing the older stock, rather than letting it go to waste. So there is also the benefit in helping create a circular economy."

In the German city of Dresden, Volkswagen has been doing something similar since the turn of the century. The CarGoTram, a partnership between the car giant and the city's transport operator DVB, is currently used to move e-Golf parts from the freight depot to the factory along the city's tram passenger route. And in Zurich, the city has experimented with using trams to transport recycling bins and electric waste.

Andrew Braddock, chairman of the Light Rail Transit Association, believes the UK has a lot to learn from France, Germany and Switzerland.

"Cargo by tram is a good idea," he says. "It could be that some large businesses in the UK see the advantages, but you would need to have an expanded passenger tram network here first.

"There are still plenty of cities that could benefit from a tram system," Braddock adds. "There comes a point you can't squeeze any more buses on to the road. And trams are more likely to get people out of their car than buses. Generally speaking, business investors like cities with tram systems, because it's a very visible form of clean, reliable transport."

James Hammett, managing director of the trade body UKTram, says the expansion of the tram network in the UK is far from over, despite the cost overrun of the Sheffield to Rotherham tram-train scheme. Technical difficulties integrating tram and train lines in the area will prove "a major learning point" for future projects, he says.

"Tramways and light rail have an important part to play in public transport connectivity, city regeneration and growth, so we expect to see some new schemes coming to fruition," he explains. "The UK could mostly definitely benefit from new tram systems."

Stephen Joseph, executive director at the Campaign for Better Transport, thinks trams improve the image of a city and attract new businesses, as well as reducing the congestion on the roads.

"If we're going to get more tram systems we do need central government to invest," Joseph says. "The private operators have their part to play and everyone benefits from having more tram systems, but it does need public investment for the infrastructure. At the moment it doesn't look likely, but I think the case for a bigger tram network will come round again."

If it remains difficult to see trams returning to their 19th-century ubiquity, zipping through the streets of every British city, the imaginative extension of the system in mainland Europe shows that a renaissance is possible.

source: https://www.theguardian.com/sustainable-business/2017/jul/21/electric-trams-cities-groceries-europe-edinburgh-dresden